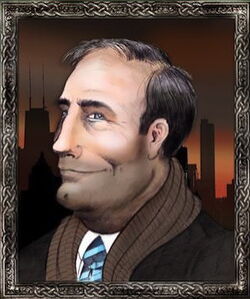 Scott McDaniels is the father of Max and husband to Deirdre Fallow. He worked as an advertising exclusive in Chicago before coming to Rowan and helps in the kitchens with Mum and Bob. His boss was Bob Lukens.
Appearance
Edit
Scott is described "as big as a bear" and has a very plump physique.. He has pale blue eyes and a deep, dimpled chin.
Personality
Edit
He is extremely kind, and often goes on at length about products that he advertises. He cares a lot about what happens to Max or his friends and can get very defensive about them. He is very loud and does not mind sharing information about his life--even to people who do not ask about it. He calls Miss Awolowo "Miss Aloha."
Background
Edit
Not much has been revealed about his background as of yet, other than his career in advertising.
The Hound of Rowan
Edit
The Second Siege
Edit
The Fiend and the Forge
Edit
He dies after getting hit by Vyndra's arrows.
Abilities
Edit
(To Max) "Well, just remember- it's not the size of the dog in the fight, but the size of the fight in the dog."