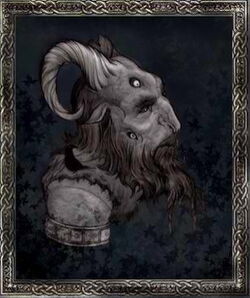 The Fomorian is a son of Elathan. He is master over the Isle of Man.
Appearance
Edit
The Fomorian Giant is fifty feet tall, with limbs like several trunks lashed together. His head head is described as huge and shaggy, with a a plaited beard and horns similar to those of a mountain ram.
Personality
Edit
Background
Edit
Abilities
Edit
(To David) "But even a clever fool can tell a wise man's story. So which are you little thing? For I might help a wise man, but I will always slay a clever fool."